Hey scrappy friends, Jenn here again to share what I've been playing with this week. I wish I could say I've made lots of cards, tags and layouts, but the reality is that I've made one layout all week. That's it.
It's been the best and worst week of my recent life. I've enjoyed having my daughter home for a visit and finding time around our busy schedules to hang out. Meanwhile, an issue that has been building all summer came to a head and has caused so much heartache it's hard to think or even do at times. It will all sift out, I have to stand back and learn when to jump in and when to hold back.
What I did get to play with this week is the new My Mind's Eye Cut & Paste papers.
Here is a layout I made from pix I took of all six kids together for the first time in a couple of years:
I love that my adult kids enjoy each others company and make time for each other. Jess insisted we restage this photo, the same line up as a photo taken some 15 years ago when they were all young. I also took a bunch of more candid shots of them using my Instax mini. Instant gratification. :)
What are your favorite new lines this season?
\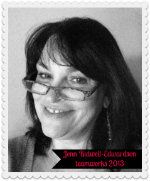 Jenn